My Reviews
Incandescent
by
River Savage
My rating:
5 of 5 stars
*****5***** FOR THE HOT SEXY DUO *****5*****
What can u say that hasn't been said?
Its been said but I love Nix and Kadence. (I also love her name)
Nix's alpha self is so sweet without being a pansy. He deals with her issues without pause. He is so frikin bossy i love it! His son is awesome and adorable.
Kadence is very strong and really "okay" after the crap she's been through. Her sense of humor is great and I love her best friend dynamic with Holly. She's an alpha chick that is able to keep herself while loving him.
This book was funny, sweet, HOT, and there was a little drama sprinkled in to make for a great story.
Thanks River for a 5* read!!!
View all my reviews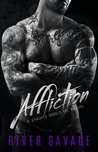 Affliction
by
River Savage
My rating:
4 of 5 stars
Sy I love you so......
Sy is the tortured guy you can't help but love.
He has past issues that make him closed off and feeling oh so alone. He us still as alpha as any biker can be but tries not to connect. His brothers are more than enough. Then meets Holly.....
Holly is very funny and a super great friend who would do anything for those she loves. You probably see what's going to happen if you read book 1 but there are a lot of personal feelings behind the secrets and lies. I will say she amped it to a different level for me, however, I've never had to go through that and I am sure there are thousands of women who reacted the exact same way. I can't fault the book for the very real possibility that her response is spot on. There is a reason I never said she was the strong one.
Sy and Holly bring out the best in each other. They are hilarious together and I wish we had more moments to see that and not as much of the sadness and drama.
Still a 4* read so thanks again! :)
View all my reviews
Reclaimed
by
River Savage
My rating:
4 of 5 stars
Not a long review but gives you the point.....
And that is this is a great book so worth the read!!
This book was very hard for me to read. I was very sad for most of it and just wanted to shake Kadence and hug her as right as I could. Dont get me wrong it was still amazing writing, characters and emotion, but just hurt.
There is redemption and we do get a couple of funny times mixed with all the sadness and if course we get hot yummy Nix time so that made up for any owies I had. ;)
We also catch up with all the peoples and friends so now I can't wait for Jesse!!!
Thanks yet again River
View all my reviews